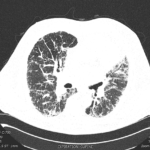 BI 1015550
The past few months have brought very exciting news for IPF patients. A novel drug being developed by Boehringer Ingelheim (BI 1015550) showed positive results in a phase 2 study. This new medication blocks the phosphodiesterase 4B receptor. Blockade of this receptor has shown promise in animal models by causing reduced inflammation and inhibiting fibrosis. The study which was published in the New England Journal of Medicine enrolled 147 patients with IPF. Patients were allowed to be on background approved antifibrotic therapy (OFEV or Esbriet). Patients received either the study drug at 18mg twice daily or placebo. After 12 weeks, the impact on their lung function (force vital capacity) was measured. Among patients who were not receiving background antifibrotic therapy, after 12 weeks on study drug, their forced vital capacity had only fallen by 5.7 ml. In contrast, patients receiving placebo had an average decline of 81.7ml over the same time period. This is a very significant difference showing the beneficial effects of this study medication on preserving lung function. Among patients who were receiving approved antifibrotic therapy, the active therapy arm showed a 2.7ml decline in forced vital capacity whereas the placebo group had a 62ml decline. The drug was well tolerated with the most common side effect being diarrhea.
For the better part of the last decade, we have only had two options to treat IPF (OVEF and Esbriet). With this positive result, a phase 3 study will evaluate the medications efficacy in a larger population and hopefully deliver a new medication to add to our arsenal.
PLN-74809
On July 10, 2022, Pliant Therapeutics reported preliminary results of their phase 2 INTEGRIS-IPF trial with their novel compound. PLN-74809 is a small molecule that binds to and inhibits signaling at two integrin (cell-cell signaling receptors). 67 patients were randomized to receive either placebo, 40, 80 or 160mg of the study drug. A majority of patients were on background antifibrotic therapy (OFEV or Esbriet). The primary efficacy endpoint was change in lung function (forced vital capacity) over 12 weeks. The actively treated patients had less loss of lung function over the 12 weeks of the study (placebo group declined by 74ml compared to the actively treated patients who declined 15ml). While we await the full publication of the results, we are excited about the prospects of another treatment to help IPF patients.
Tyvaso
United Therapeutics is currently enrolling a phase 3 study of their already approved therapy Tyvaso in IPF patients. In 2021, the INCREASE trial suggested a possible benefit in slowing the progression of IPF. Whereas BI 1015550 and PLN-74809 are experimental therapies, Tyvaso is already widely used in the treatment of pulmonary arterial hypertension and in pulmonary hypertension complicating interstitial lung disease.