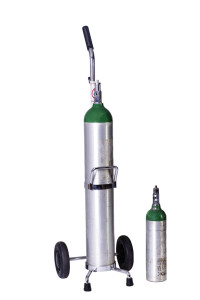 Typical oxygen flow rates are between 2 and 5 liters per minute.  For most patients that require supplemental oxygen this provides adequate support.  However, some patients require higher flow rates to meet their needs.  My approach is a stepwise algorithm to address my patient's oxygen needs.  Some patients with very advanced pulmonary fibrosis have severely low oxygen levels and this leads to marked shortness of breath.  The steps below apply to such patients.
Options to Improve Oxygen Flow for Pulmonary Fibrosis Patients
1.      Oxygen Concentrator
Obtain an oxygen concentrator from your Durable Medical Equipment supplier (this will require your doctor to send an order to the company) that can deliver at least 10 liters per minute.
2.    Oximizer Cannula
Switch from regular nasal cannula to an oximizer cannula or a high flow cannula.  The oximizer cannula has a reservoir that holds oxygen so that when you breathe in through your nose, you are pulling additional oxygen from the reservoir.  The high flow cannula is bigger and as a result there is less resistance to the movement of oxygen from the concentrator.
3.    Increase the Flow
Increase the flow on the concentrator until you are at the maximum.
4.    Face-Mask Oxygen
For patients that are not adequately supported using an oximizer cannula and flow rates of 10 -15 liters per minute, you may add face-mask oxygen delivered from a portable "E" tank.  Many patients use both nasal cannula and face mask oxygen when they are exerting themselves or are particularly short of breath.
5.    High Flow Oxygen
In the hospital we have another option—high flow oxygen.  This system delivers up to 80 liters per minute of heated, humidified oxygen via very large cannula.  Patients find this system very comfortable and an emerging body of literature supports high flow use in the hospital setting.  We are starting to see home high flow systems slowly becoming available.  Not every insurance is willing to pay for the device.
6.    Trans-Tracheal Oxygen
In a very select group of patients we may consider trans-tracheal oxygen delivery.  This was more popular in the 1990's and early 2000's.  This involves cutting a small hole in your neck (trachea) and inserting an oxygen catheter.  The direct delivery of oxygen into the trachea provides comfortable support at lower flow levels.  The problem with this system is that it requires an invasive procedure in our patients least able to handle invasive procedures.  Furthermore, cough may be a frustrating side effect.  Patients that have large amounts of mucous are not good candidates.  I very rarely use trans-tracheal oxygen.