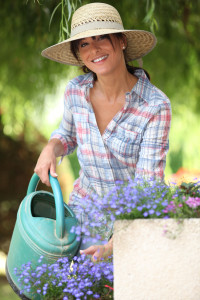 Depending on where you live, summer may be something to look forward to or a time of increased breathing symptoms.  If you live in the southwestern United States or other desert climates, summer means punishing heat for many months.  Patients with chronic lung disease like Idiopathic Pulmonary Fibrosis do not tolerate these extremes of temperature very well.  In other parts of the world, summer means humidity, another source for increased breathing symptoms.
Staying Cool with IPF
The first rule of survival in very hot climates is stay out of the sun.  Plan your day accordingly.  Make doctor appointments for early morning.  If you have chores, do them either in the morning or after the sun sets.  Simply adjusting your schedule to get up earlier may allow you to be outside before the temperature reaches triple digits.
Don't pinch pennies on your air conditioner.  If your finances permit, use your air conditioner.  Find a temperature that is comfortable for you. Most patients find that mid-70's strikes the right balance.  Keep the blinds drawn and the windows closed during the day.  If your temperatures drop in the evening, then take advantage of a cross breeze and open some windows.
High humidity means that there is more water content in the air.  This makes the air heavier.  As the air gets heavier, it is harder to breath for most patients with chronic lung disease.  Most air conditioners remove moisture from the environment.  So using your air conditioner will not only cool the air but remove humidity.
Avoiding Dehydration
A common concern is to avoid dehydration in the summer months.  Striking the right balance between avoiding dehydration and not drinking too much fluid can be a challenge.  If you are typically on a fluid restriction then you may find that you have to liberalize it a bit.  If you are not on a fluid restriction from your physician then increasing your fluid intake to compensate for increased losses of fluid from hotter temperatures is reasonable.
Exercise in the Summer
Staying in shape is critical for patients with pulmonary fibrosis.  A walking regimen is the easiest way to keep from losing muscle strength and becoming deconditioned.  As temperatures rise, walking outdoors can become impossible.  Many of my patients find that walking around local indoor malls in the morning is a great alternative.  The malls generally open their doors early in the morning prior to the stores opening.  The temperature is always perfectly controlled and there are no shortage of benches and chairs.  Walking on a treadmill is another option.  Swimming or water aerobics in the early morning or evening is another great way to exercise and stay cool.  If you are taking Esbriet, be sure to avoid direct sun exposure.