A chest X-ray is a simple, inexpensive test that gives a general impression of the lungs.  In the early stages of idiopathic pulmonary fibrosis the results may be normal.  In advanced disease the chest X-ray is always abnormal with increased markings at the bottoms of the lungs.  There is some benefit to periodically repeating a chest X-ray as it allows a general appreciation for major progression of disease.  A chest X-ray is most useful to look for problems such as pneumonia or lung collapse in IPF patients that are acutely more short of breath.
Where are Chest X-Rays Performed?
Many pulmonary clinics have the capability to perform a chest X-ray in the office.  The test requires specially trained personnel and of course an X-ray machine in a special room that contains the radiation produced during the test.  Outpatient imaging centers and or hospitals may also be utilized for the test.
How is a Chest X-Ray Performed?
Generally patients will be asked to remove any clothing form the waste up along with any metal jewelry prior to having a chest X-ray.  A gown is provided for patients to wear during the test.  It is important to inform your physician if you are pregnant as they may choose to order an alternative imaging test that does not involve radiation.  During a chest X-ray the patient will be placed in front of an X-ray detector and the X-ray machine will send a short X-ray pulse through the patient's chest. The patient will be instructed to hold still and hold their breath to prevent the image from blurring.  The test only takes a few minutes to perform.
Results of a Chest X-Ray for Idiopathic Pulmonary Fibrosis
Chest X-ray images are now saved digitally and are available for viewing within minutes of the procedure.  If the test was performed in your doctors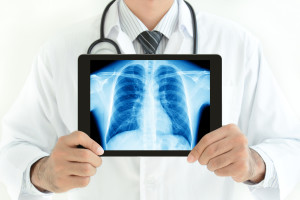 office they will be able to review the images with you immediately.  If the test was performed at an outpatient hospital or center it may be reviewed by a radiologist and then electronically sent to the ordering physician.  Bones are easy to visualize via X-ray due to the amount of calcium they contain and show up white on film. The lungs and trapped gas also show up clearly and look black on film.  It is difficult to distinguish between different types of soft tissue using X-ray technology.