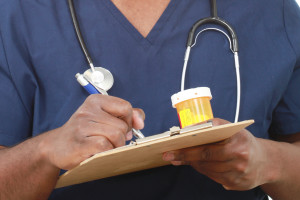 Many medications are accompanied by side effects.  These side effects can range from annoying to life-threatening.  When the FDA considers approving a new medication, there is a careful evaluation of the benefits of the new medication weighed against the side effects.  For life threatening diseases such as pulmonary fibrosis, the FDA is willing to accept substantial side effects.
The most common side effect patients experience with OFEV is diarrhea.
In the clinical studies more than half of patients treated with OFEV had at least some diarrhea.  For most patients this is mild to moderate.  However, for some patients this may be quite severe.  In cases of mild diarrhea, the first strategy is to ensure adequate oral intake of fluids to prevent dehydration.  Over the counter anti-diarrhea medication such as Imodium is often helpful.  For more severe diarrhea, Lomotil (a prescription anti-diarrhea medication) may be effective.
If these interventions are not effective, then I generally stop the medication until the diarrhea has resolved and re-challenge with the lower dose (100mg twice daily).  If severe diarrhea persists at the lower dose then I would stop the medication permanently.  It is important to demonstrate that the diarrhea was caused by OFEV. There are other causes of diarrhea such as antibiotic associated diarrhea.  If the diarrhea does not resolve within a few days of stopping OFEV then I would begin an investigation into other causes.
Many patients find that over time the diarrhea becomes less prominent.  Patients often adjust their diet and find foods that are better tolerated.  OFEV should not be given to patients at increased risk for bowel perforation (a specific type of bowel injury).  We generally withhold OFEV for 4 weeks after major bowel surgery.
Irritation of the Liver
Another potential side effect with OFEV is irritation of the liver manifested as elevated liver function tests.  14% of patients in the pivotal study experienced this side effect.  As a result, monthly liver function testing for the first 3 months then quarterly liver function tests are required.
Bleeding with OFEV
The last significant side-effect encountered in the research studies was a small increased risk of bleeding.  As a result, we monitor blood counts monthly for the first 3 months then quarterly thereafter.
As OFEV is an important treatment for a life-threatening disease, perseverance is important.  It is important to keep your doctor informed of your side-effects.  Open communication maximizes your chances of tolerating this medication.