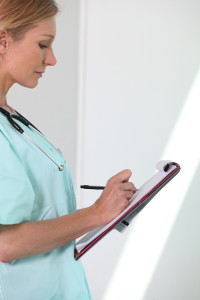 Your pulmonologist measures your lung function using different tests. Collectively these tests are called pulmonary function tests (PFTs). The three basic parts are:
Spirometry
Lung volumes
Diffusing capacity
Spirometry is the easiest to perform. You basically take a full breath in and then blast out a maximal breath as hard and fast as you can until you are totally empty (at last six seconds of exhalation). This measures the flow of air as a function of your lung volumes and we generate a flow-volume loop. The most important measurement for following IPF is the Forced Vital Capacity or FVC. This measures the total amount of air you can exhale from the top of a full breath. As IPF progresses the FVC declines.
Lung volumes are performed either with a plethysmograph (looks like an old-fashioned phone booth). Alternatively, the test may be done using a dilutional gas method. I prefer the former. When measured with the plethysmograph we can precisely measure the amount of gas (air) in your lungs. As IPF progresses the lung volume (total lung capacity-TLC) declines. This measurement is similar to FVC but takes longer. Hence, we use FVC more often.
Diffusing Capacity is a measure of the movement of gas across the membranes of the lungs. The measurement is affected by how much blood you have in your lungs and any barriers to gas exchange. Diffusing capacity decreases as IPF progresses.
What does it mean if one of the tests is stable and the other is getting worse? This is a common scenario. In my experience we often see the FVC or TLC (lung volume) stabilize over time but the diffusing capacity continues to decline. When I see the diffusing capacity dropping out of proportion to the FVC or TLC I worry about the development of pulmonary hypertension.
To read more about pulmonary function tests click here.
To read more about how we monitor the progression of your IPF click here.