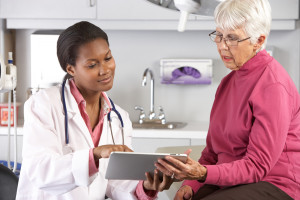 Unfortunately in IPF, we currently have no therapy that improves lung function.  As a result, we settle for stability as the goal of therapy.  Currently approved therapies (OFEV and Esbriet) have both been shown to reduce the rate of decline in lung capacity compared to placebo.
How do we track the progression or stability of IPF?
There are three broad ways that your pulmonologist can measure your progress—Pulmonary function testing, exercise testing and imaging.  The easiest way to monitor Idiopathic Pulmonary Fibrosis is by measuring serial pulmonary function tests.  The fastest and most widely used test is the forced vital capacity.  This is measured with a spirometer and takes a few seconds.  The patient takes a big breath in and then breathes out a maximal exhalation until empty.  The volume of air that is expelled is called the forced vital capacity or FVC.  In multiple studies, a decline of greater than 5-10% in the FVC identifies patients with a worse prognosis.
Diffusion Capacity
The most predictive pulmonary function test is the diffusion capacity.  This test measures the way in which gas moves across the lung tissue.  A 15% decline in FVC over 6-12 months identifies patients with a more aggressive form of IPF.
Six-minute walk test
The easiest and most widely used exercise test is the six-minute walk test.  This has strong predictive value in a variety of ways.  The absolute distance walked has significance as does a decline of greater than 50 meters over 6 months.  A drop in your oxygen saturation during a walk test and a more rapid heart rate that recovers more slowly also identify patients with a greater risk for progression.
High resolution CT scans
Lastly, the extent or severity of pulmonary fibrosis on high resolution CT scans has prognostic value.  Progressive changes identify patients with a worse prognosis.  The plain Chest X-ray is not very sensitive to changes and is not ideal for following patients.  CT scans provide much more information but at a greater monetary cost and radiation exposure.
There are a variety of composite scores that combine various pulmonary function test results, imaging test results and patient demographics to reach a score that predicts patient outcomes.  The two best known are the GAP model (Gender, Age and Physiology) and the Composite Physiologic Index (CPI).