Over the last decade the price of medicines has increased dramatically.  Even old generic medications now cost $50-100/month whereas they previously cost $4-10/month.  Patients are asked to spend more and more money everywhere they turn. Copays have increased, deductibles have increased and out of pocket maximums have increased.
When you pick up medications at your pharmacy did you know that most pharmacists are prevented from telling you how to save money on the exact same prescription medications?  These "gag orders" are part of their contracts at most major chain pharmacies.  If you ask the pharmacist specifically about how to save money, some may be able to tell you about options.
GoodRx is a Great Idea!
GoodRx.com is the Hotels.com of retail prescription medications.  Anyone can go to their website and type in a medication and see how much it costs at different pharmacies with their coupons.  You will be amazed at the range of prices.  I recently was helping a patient find sildenafil on this website.  They had been paying $400/month for 90 tablets.  They were able to save 92% by using the GoodRx coupon.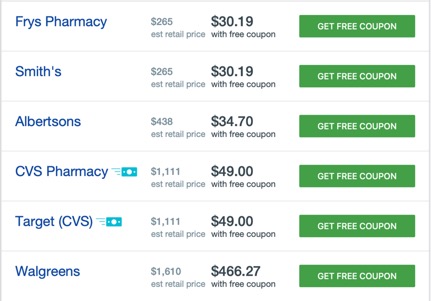 There is No Fee to Participate.
Simply get on their website and get your free coupon.
You have to be flexible about which pharmacy you get your medications from.  Often Safeway and Fry's are the least expensive but it varies for each medication.  When you go to pay for your medication you should ask how much it costs with insurance and if you save money with your GoodRx coupon. Then present your coupon (you can have it sent to your smartphone or print it out).  If you use a health savings account you may use this to pay. Every month you should check the GoodRx website to see where you can save the most money.  You may be able to save even more by looking at pill size and quantity.