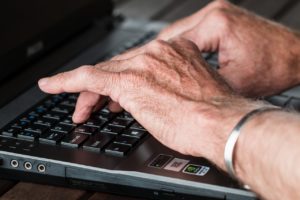 Rheumatoid arthritis is an inflammatory disease of the joints.  It typically involves the hands, wrists and feet but can involve any joint.  What is less well known is that Rheumatoid Arthritis can involve the lungs in many ways.
Pulmonary Fibrosis:  scarring of the lungs
Bronchiolitis Obliterans:  an airway disease that behaves like severe asthma
Rheumatoid Nodules:  collections of inflammation in the lung tissue
Follicular Bronchiolitis:  airway inflammation with tiny nodules of lymph tissue
Pulmonary Hypertension:  high pressure in the blood vessels of the lungs
Symptoms of Pulmonary Fibrosis with Rheumatoid Arthritis
When Rheumatoid Arthritis leads to Pulmonary Fibrosis, patients often have severe symptoms of shortness of breath.  Over the years there have been few good quality studies of medications to treat this process.  Generally speaking, most medications that treat joint inflammation have been entirely ineffective at treating the scarring in the lungs.  Medications such as Humira, Enbrel and others just don't work to stop the fibrosis.  We often try medications such as mycophenolate (Cell Cept) but results are usually disappointing as well.
A recent study of patients with Rheumatoid Arthritis (RA) and Pulmonary Fibrosis is shedding some light on why this is such a difficult problem to treat. Researchers have discovered that patients with RA and Pulmonary Fibrosis have mutations in a gene called MUC5B.
Idiopathic Pulmonary Fibrosis?
Interestingly, mutations in this gene have also been found in some patients with Idiopathic Pulmonary Fibrosis.  This further suggests that perhaps RA associated Pulmonary Fibrosis should be thought of more as IPF in a patient with RA.  Although there have not been any studies with OFEV or Esbriet we remain very interested in this as a better treatment for this disease.