My name is Andrew, I'm one of the people who helps Dr. Feldman with this website. I've known Dr. Feldman for many years and he is truly a wonderful physician and person. I really believe that the work being done on this site and our other site about Pulmonary Hypertension is helping people in a very meaningful way. So I wanted to share a personal story that I hope our readers can identify with.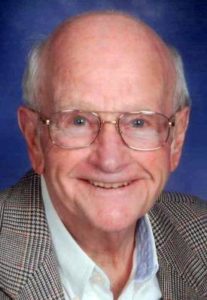 My grandfather, Wayne, was diagnosed with Pulmonary Fibrosis about 5 years ago. It's been one year since he passed away. Frankly, I needed that time to pass in order to write this article. I was very close with him and looked up to him in many ways. His loss has been truly devastating for my family.
But my grandfather had a pretty unique approach to dealing with his diagnosis, as I'm sure many of you do. I thought it might help to share some of it with you in case it brings you comfort. First, I thought it might help to tell you a little bit about him and some of the experiences that may have shaped the way he approached the diagnosis. After all, I think it's important to remember that there are real people affected by this disease, good people.
A Survivor From the Beginning
Wayne grew up in abject poverty on a farm in rural Iowa. Over the course of his life, he was able to pull himself out of that poverty and achieve success in a variety of ways. But this was no doubt a formative experience for him and would later impact the way he dealt with his diagnosis.
His parents didn't own the farm they lived on and really had nothing of their own. I remember him telling me stories about how he and his brothers would climb up to the rafters of the barn and try to catch pigeons to eat. They would use a flashlight to blind the pigeons first, and then … whack! I'm not sure that he necessarily enjoyed this experience; he never was a hunter for sport. But he did what he had to do to survive. And that would serve him well later on.
So when he was drafted into the army and shipped overseas to serve in the Korean War, it must have seemed like more than a world away. He served honorably in the Korean War but I have no doubt he was glad when it was over. He didn't like to talk about it much, but would share some stories from time to time. I know he kept the worst parts from us to spare us the horrors of war. That's the way he was, always looking out for us. And not just us – he was awarded 2 Bronze Stars and a Combat Infantry Badge for his courageous action during combat in Korea.
He took up smoking during the war, which he continued into early adulthood. In those days, the military actually gave the servicemen free cigarettes. So lots of guys got started that way. But he never smoked during my life and hadn't for many decades before his diagnosis. In fact, for his entire adult life he was active, healthy and almost never ill. He prided himself on never having to be on any medication. He maintained that streak well into his 80's.
"Neither Snow nor Rain nor Heat nor Gloom…"
After the war, he got a job as a mail carrier in the local post office. Over the course of his career, he eventually rose to be Postmaster of that same post office. My grandfather was a very disciplined man and approached his job and most things in life with integrity, persistence and thoughtfulness. He was very popular as Postmaster and to this day I can go back and visit the small town he lived in and people still know him and remember him fondly.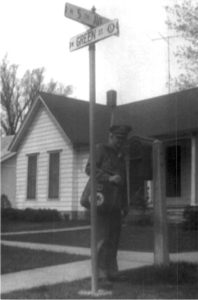 One of the things postal workers are known for is delivering the mail regardless of bad weather. There is actually an official motto that goes like this:
Neither snow nor rain nor heat nor gloom of night stays these couriers from the swift completion of their appointed rounds.
Iowa has some of the most extreme weather in the country. I've often said it's like Alaska in the winter and Mississippi in the summer. And that's not much of an exaggeration! But my grandfather didn't let that bother him. He was great at putting one foot in front of the other (literally and figuratively). No matter how bad it was outside, or what kind of obstacles he faced, he always got the job done. One foot…in front of the other. That approach served him well in all sorts of challenges then and later on.
A Sense of Humor
He was also a very organized and punctual man. No doubt, his chosen career played a role in that, but he took great comfort in that approach to other problems too. He often developed routines and systems to make life easier. Yet, he was anything but boring. He was a voracious reader and although he had only a high school education, he was wise beyond his years and highly intelligent.
He had a Midwestern wry sense of humor and a very quick wit. Almost a Johnny Carson type of humor. In fact, Johnny Carson was born in a small rural Iowa town near where Wayne lived. He often used that sense of humor to get a rise out of my grandmother. He always had a one-liner for her that would really get her worked up. It was pure entertainment for us kids to watch.
Pursuing His Dreams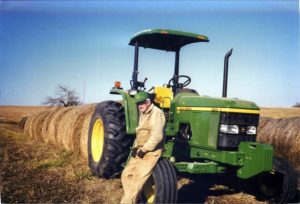 One of his dreams in life was to one day own a farm that he could run the way he wanted to. His parents hadn't owned the land they worked, and in some way I think that was his motivation. He saw the tremendous hardships they endured during his childhood. I think he felt that owning a farm would complete the circle from where he came from. So he did just that when he retired from the post office. He bought a beautiful piece of land in rural Iowa where he raised cattle. My summers spent on that farm as a kid were some of my fondest memories. And I could always tell it brought him such joy.
He hadn't worked on a farm in decades, really since he was a kid. So he had to learn the farm & cattle business again nearly from scratch. But he was up to the challenge and did so with meticulous planning and discipline. He studied and learned, and persevered once again to build a successful operation in his 60's & 70's.
Developing a Plan and Adapting
He was really enjoying life into his 80's. So when he got the diagnosis of Pulmonary Fibrosis, it was a shock. He did really well the first couple of years with it. It was mostly shortness of breath, which didn't seem to impact him too much – only in the little things that he and my grandma would have noticed I'm sure. After the first couple years, things started to get a bit more serious.
It was very important for him to stay in his home that he had lived in since the 1960's. He did not want to move to a facility. So he developed a plan and implemented it. He adapted the house to his evolving condition. Furniture that was upstairs got moved downstairs. He hired someone to mow the lawn and scoop the driveway. He installed support bars in the bathroom to avoid falls. He listened to his doctor and tried his best to carry out the instructions.
One foot…in front of the other.
He was going to endure his disease on his terms. I think it gave him great comfort to have a plan and to work on new adaptations for his home. I think it helped him have some say over this disease and what he would or would not allow it to do to him.
Near the end, he had lost a lot of weight and breathing was immensely difficult. My wife and I went back to visit with our children (his great-grandchildren) and were fortunate enough to get one last family picture with all 4 generations. While clearly under duress, he still had a sense of humor and I even saw him crack a joke aimed at my grandma, with a sparkle in his eye. He was quite frail, but I hoped it would not be my last time seeing him.
It was.
When I went back a couple of months later for the funeral, I discovered something that I will remember forever. The doctor had asked Wayne to track his weight on a daily basis. It had been going down for many weeks and months. Nevertheless, my grandfather kept meticulous notes of his weight every single day, just as the doctor had requested. Ever the planner, he had even pre-dated some of the entries, leaving them blank to fill in the weight later when that date came. His last pre-dated entry was February 5th – the day of his funeral.
I believe he knew.
What I Learned From Watching Him
I learned a lot watching my grandpa handle his diagnosis of Pulmonary Fibrosis. For me, the take-away is that he used his life experiences to help him deal with this disease on his terms. He didn't change who he was or overreact. He just dug deep and began implementing a plan to take on this disease the way he wanted to. He did what he had to do to survive. One foot…in front of the other, learning new ways to adapt, and keeping a sense of humor until the end.
I think we all have experiences in life that help prepare us for what's ahead. Recognizing those and drawing on them in difficult times can be the key to survival. My grandfather didn't "lose a battle" with Pulmonary Fibrosis. He survived. He lived. He won because he did it on his terms. It takes courage to do that, and he had it in spades.
I hope his story helps inspire others to face this disease on their own terms. When he was first diagnosed, I thought it was an amazing coincidence that I just happened to be involved with this website. But I think it was more than coincidence. It's inspired me to continue working to build awareness about this disease. We're already making tremendous progress fighting this disease and one day it will be cured. In the meantime, this story and so many others will help push us forward with urgency.